How to make Ube Halaya? It is so easy that you will never go without it, as this Purple Yam Jam is your base and gateway to endless Ube recipes possibilities.
Growing up, we really never touched the almighty Ube as my grandma would always say it is a lot of work. So, from childhood I know that it is like the god (or goddess as for some reason I feel it is female) of root crops but we were kind of afraid to get near it. I know that many get their Purple Yam Jam from Good Shepherd Convent in the north. They were (and probably are) known for the best Ube Halaya, Lengua de Gato and Peanut Brittle in the archipelago. Oh, now I am going down a nostalgia of flavours with this memory.
However, one day my Ma had a jack-in-the-beanstalk Ube plant. At least that was my perception of it. It felt like she grew an Ube plant overnight. Plus, it looked like Jack in the Beanstalk in my mind. It was this weird-looking vine creeping everywhere. It still meant nothing to me until a few months later when Ma started digging up the incredible-purple Ube.
Ube Halaya Recipes
When you have this luscious flavourful Jam in your fridge, you can make anything from Ube Pandesal, that has been a recent craze, to Biko Ube and Ube Ice Cream. For my Ube Recipes, I always use Ube Halaya rather than plain mashed Ube or Ube powder (that you have to rehydrate). The Jam just gives the recipe creaminess and additional layers of flavours. So, if you ask me, I suggest that you cook Ube Halaya separately and have this in your fridge, ready for all the incredibly delectable recipes that you are about to make and/or bake.
This amazing tuber is also great source of healthy carbs, fiber, vitamins, and potassium and packed with unbelievable benefits. Healthline has an extensive article that details 7 benefits of Ube Purple Yam. It also differentiated Ube from Taro, for those who are wondering about these two tubers.
How to make Ube Halaya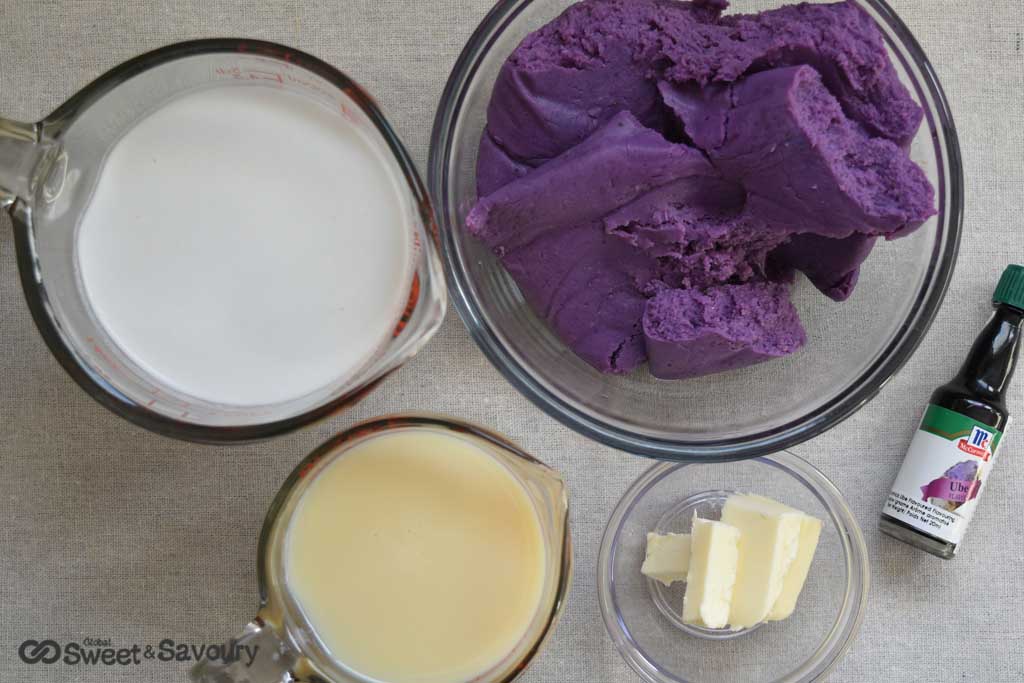 Ube Halaya Ingredients
Ube or Purple Yam
Since I am now in North America, I get my Ube from the Asian store - grated and frozen. I was able to buy the tubers in the local grocery one time, but it sold out like pancakes (I live in a city with many Asian immigrants). A few months after they had it back, but they were duped by their supplier. Or maybe they were the ones trying to deceive the customers because of the demand. It was Purple Sweet Potato and NOT Ube. So, if you are buying them fresh or from tubers, be careful, especially if you are not confident in telling which is which.
Coconut Milk
Some recipes use Fresh Milk and others Evaporated Milk. I use Coconut Milk because of the (layer of) flavour it contributes. That floral sweet nutty flavour of coconut blends well with the Ube flavour profile and the result is luscious creaminess. Having said that, of course you can always substitute the other milk if you don't like coconut flavour or coconut milk.
Sweetened Condensed Milk
I skipped the sugar, so this is the sweetener plus of course this is for creaminess. It also improves texture. You can see (or feel) after you added this milk, and you start mixing. Your jam is elevated to a silkier texture. Some recipes add sugar on top of putting condensed milk. That is too sweet for me and could ruin the recipes that I am putting this jam in. If you are having jam as it is and you want it sweeter, you can add 1/4 cup granulated sugar.
Butter
I always use unsalted butter in most of my recipes. But on this one, you can use either salted or unsalted. If you use unsalted then add a pinch of salt. We don't want that saltiness to come through; salt is just a flavour-enhancer. By the way, I use butter also to grease the container, like liberally that you can see it melting and blending with the jam - ah the sinful pleasures of life!
Ube Flavouring
This is for additional colouring and flavour. You can skip if you don't have it in your pantry. Although most Asian stores carry it - it is that popular in Asia. Plus, it gives this Ube Jam that more cohesive purple colouring.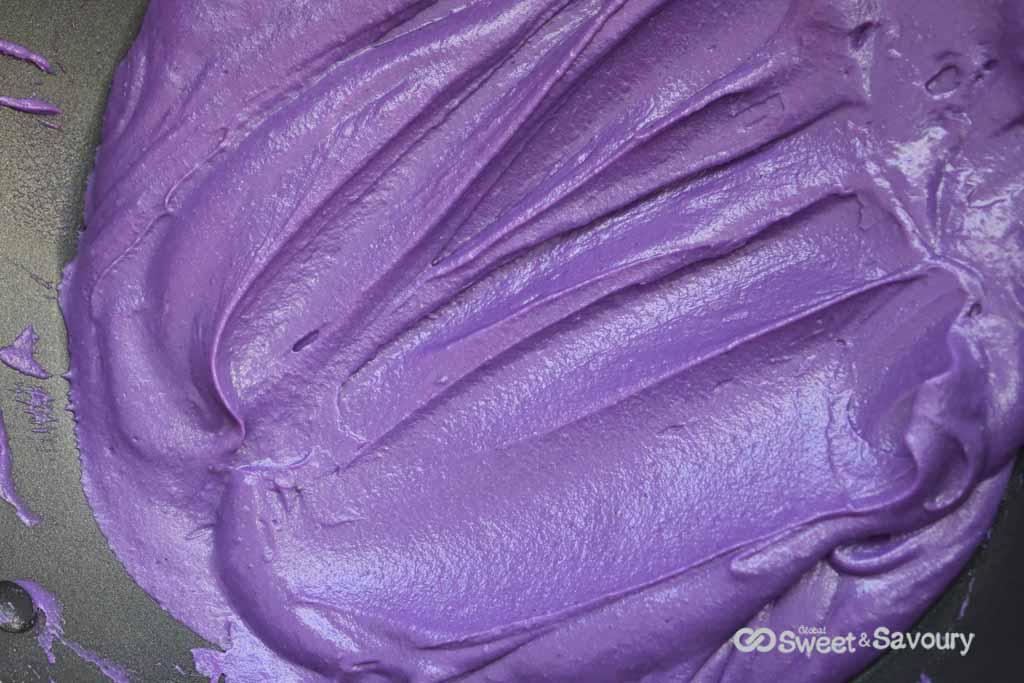 How to Cook Purple Yam
Prepare the Ube
If you are starting from ube tubers, begin with washing them clean; really clean (they are root crops, so they were dug from the ground). I boil them with skin on and peel the skin after. Boiling them without skin results to a harder outer layer that I don't want in my Jam if I want it really smooth. For the same reason, I also boil them whole.
After boiling, peel the ube. There is usually a sort of skin that naturally separates and that's what you discard. (I know it looks like a waste but again, they are harder than the rest. This is true for sweet potato as well). Then you only get the softer flesh. Mash with a fork or a potato masher.
How to make the Ube Halaya smooth and silky
If you are using frozen grated Ube, thaw the pack and you are ready.
In a blender, put the thawed grated Ube or the Purple Yam you mashed. Add the Coconut Milk and put in puree for 2 minutes or 2 cycles. (Note: I was not actually happy with the consistency after doing puree that I did a smoothie cycle after. It saves me a lot of mixing in the pot too).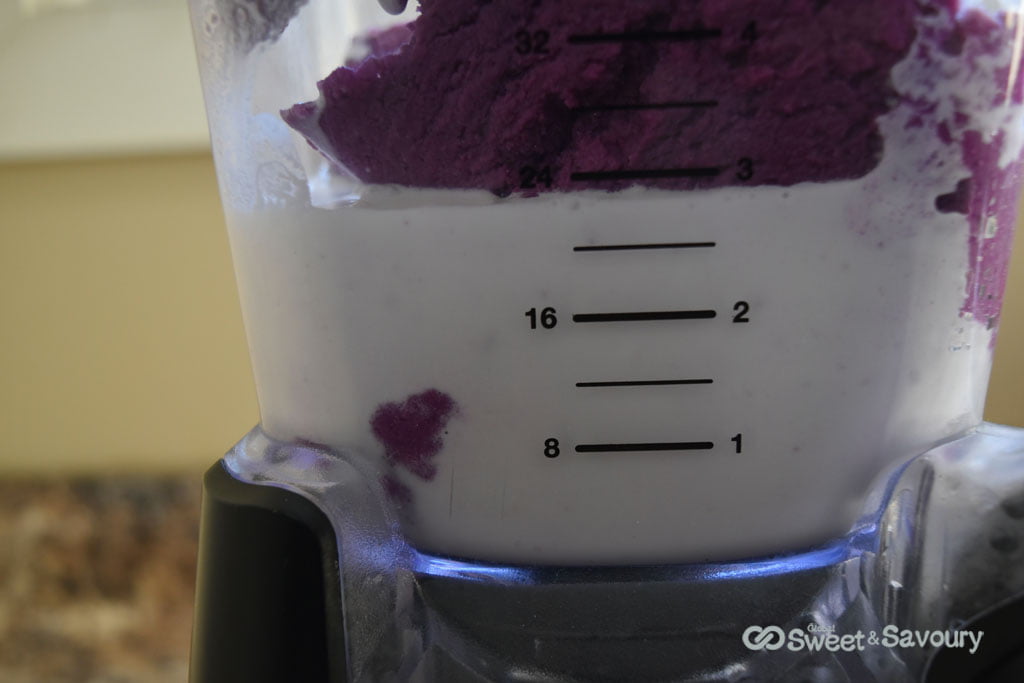 Alternately, you can use an immersion blender. It is less messy that way however, it takes more time plus you might miss some larger bits. So, you can pass it through a sieve to catch them. In the end, it might turn up messy still. If you are not as obsessive like me about making it silky smooth, then it doesn't matter.
Oh, I have my reason why I want it really smooth. I usually use it for my Ube Bread Roll. It is basically Cinnamon Roll or Babka with ube filling. If I don't make it as smooth as possible, I can see the lumps when I spread the Ube Halaya on the dough. Not happy with that at all!
This is what you get after you puree the grated/mashed Ube with Coconut Milk.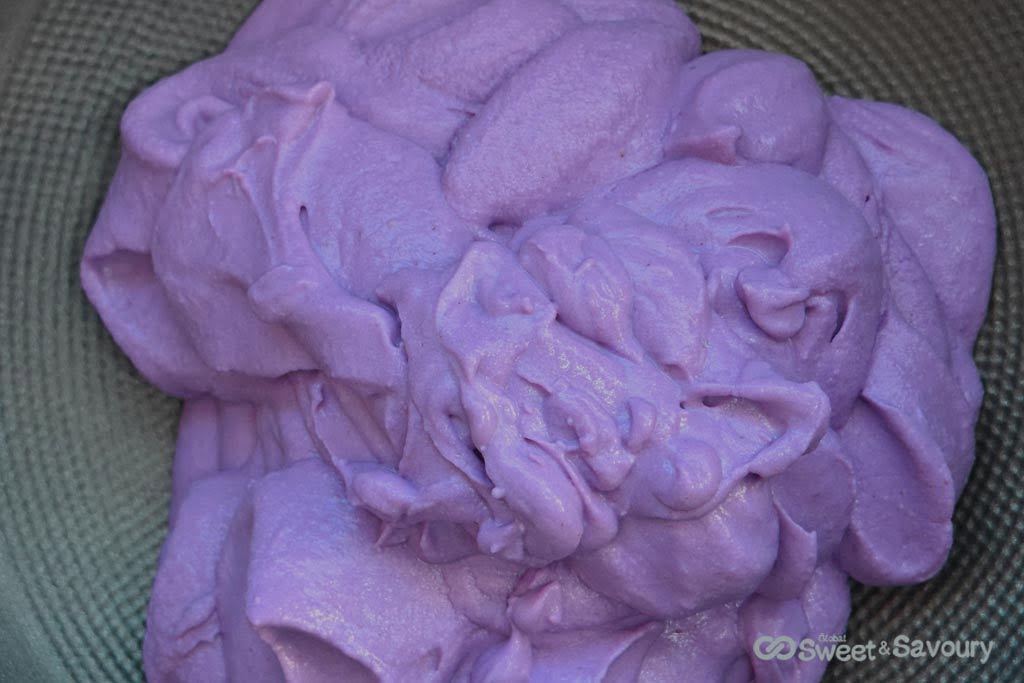 Cook in very Low Heat
Pour the mixture in a heavy-bottomed pot or pan and cook in very low heat with constant stirring.
This is cooking with patience at its "best" (all right, at its worst). The reason why my grandma said it is not easy to do. Back in her days, it was probably harder as it was a challenge to maintain a constant low heat source. But with all the gizmos we have in our kitchen now, it's not too bad.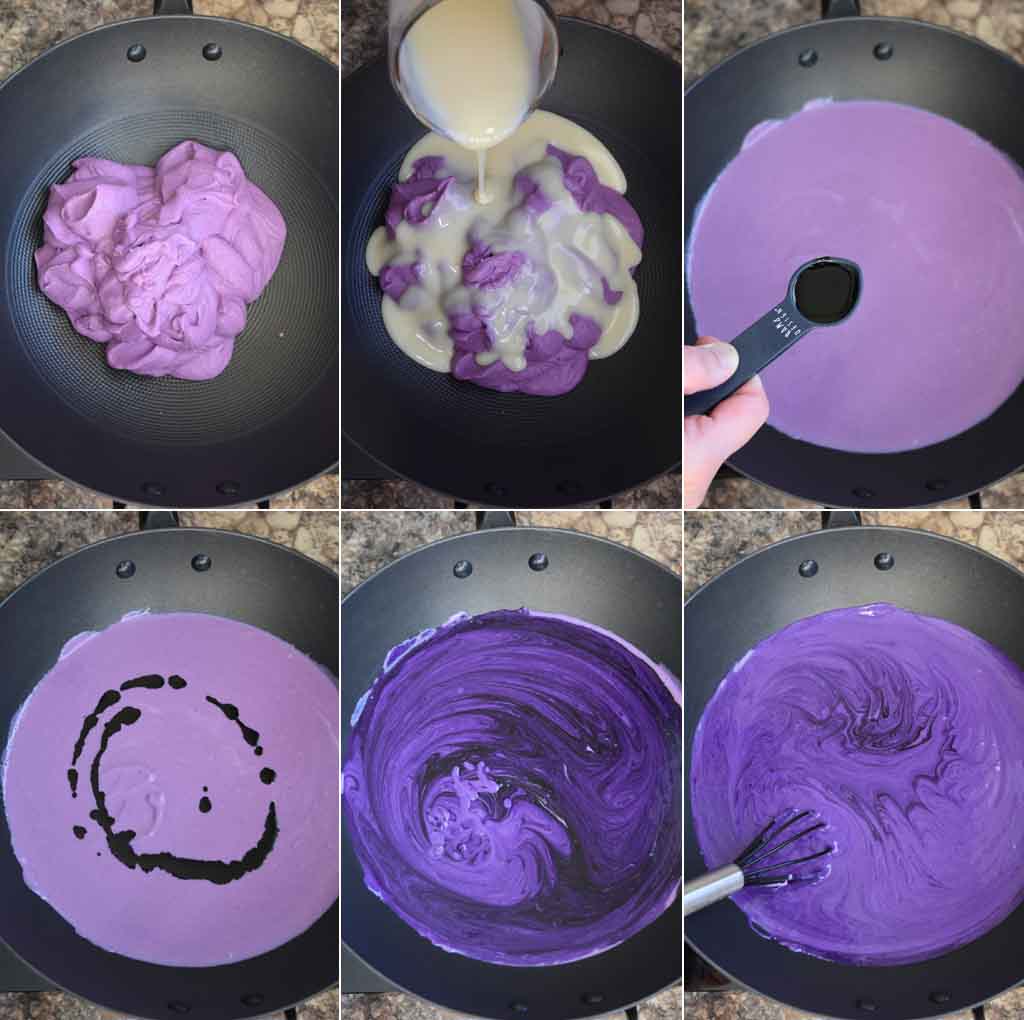 For one, the mixing in the blender helps a lot in having a cohesive mixture. That is, compared to mixing it manually while already in the pan. Initially I tried this recipe that way (the latter). Actually, I tried this recipe in a thousand and one ways, or so it seems before I decided that it is ready to be shared.
I tried not using a blender or mixer - just put together the ingredients and mix until thick and cooked enough. Oh man the lumps were everywhere. Especially when I spread it on my dough (for the Ube Roll). I tried mixing with a hand-held mixer (I don't have an Immersion Blender as I am yet to find the best one or the one that suits my requirements best. I will update this when I had the chance to cook using an immersion blender).
The best one of course is what I am sharing here. Cooking time is also reduced after mixing in the blender. Usually it will start to thicken around the 20 minutes mark. But with the blender technique, it came out of the blender thicker already. The cooking time is about 35-40 minutes instead of an hour or so.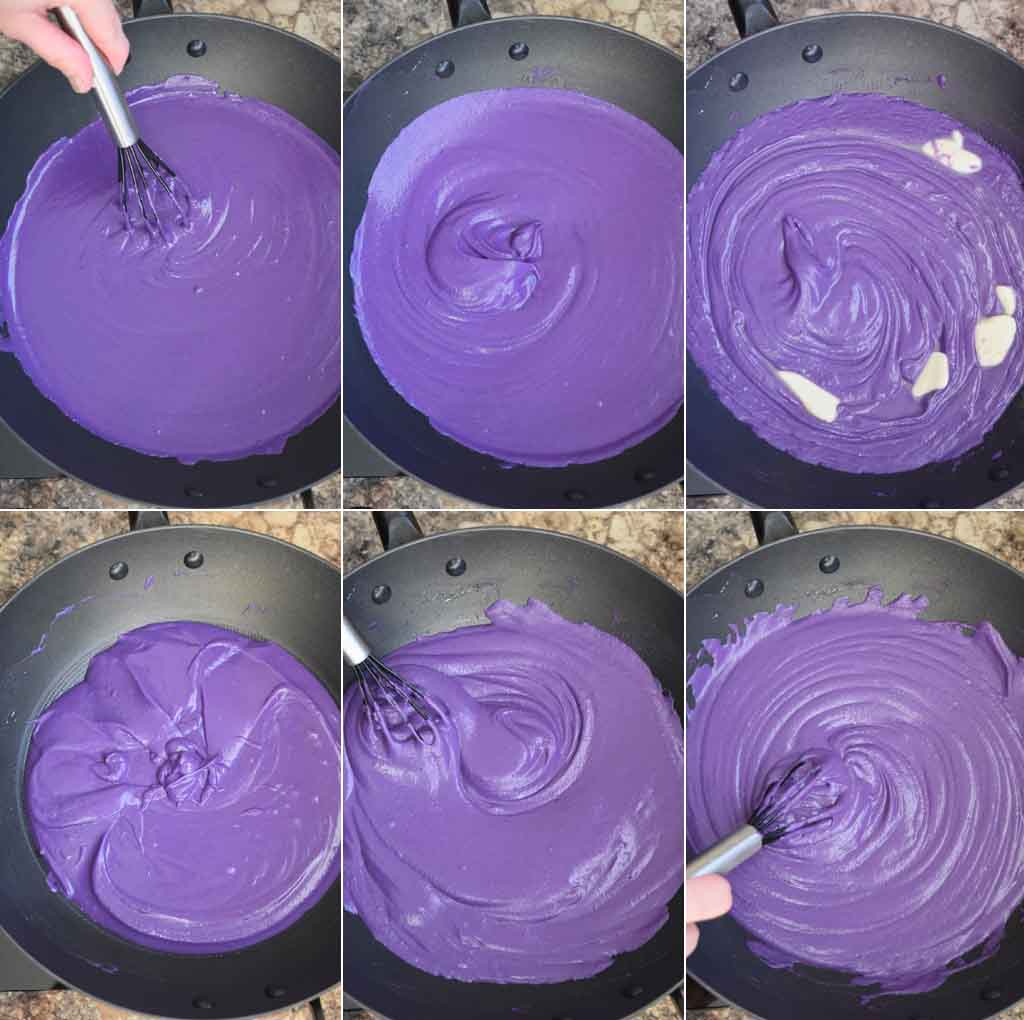 Finishing it off
Add the Ube flavouring and continue to mix. When it starts to thicken, add the butter. Cook for another 10-15 minutes and take it out of the heat and transfer to a container.
If you are serving it as it is, you can top it with either grated cheese or butter. Because this Ube Halaya recipe is not very sweet, you can eat it straight like this - as snack or dessert.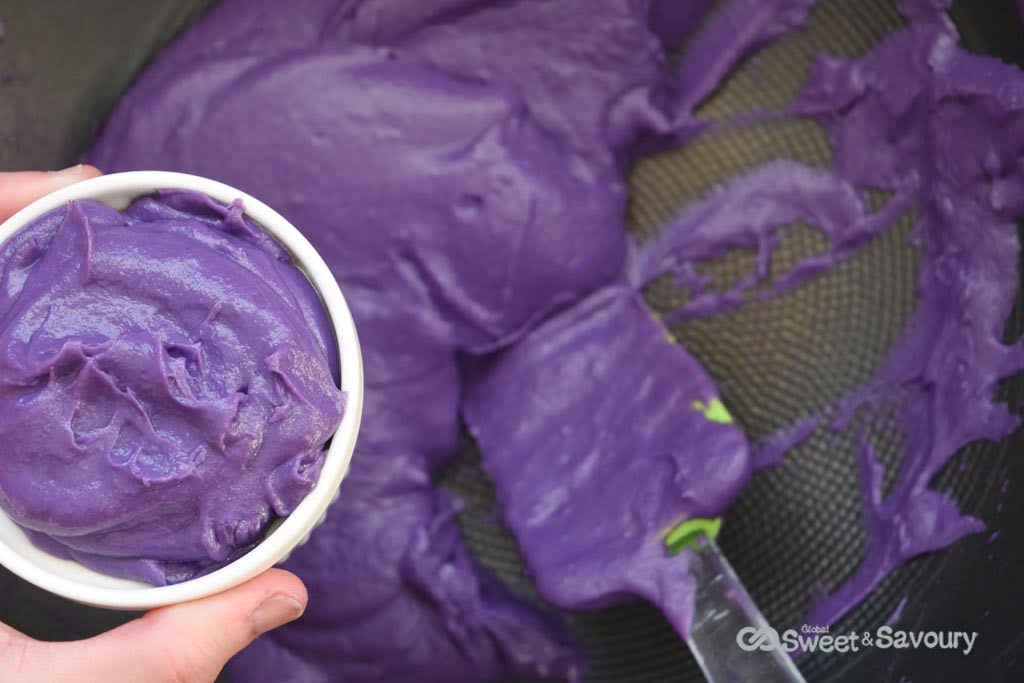 Storing Ube Halaya
It stays fresh in the fridge for 3-5 days although it is best in an air-tight container, where it will last up to 7-9 days. Ube Halaya forms a harder skin where it is exposed to air so I will suggest to always store in an air-tight container.
It gets harder though when it is cold (even in the fridge) so I usually pop it in the microwave to make it more spreadable or "mixable". Unless I am doing Ube Hopia, when I need it to be more solid as a filling.
If you want to keep it for longer, put in an air-tight and freezer-safe container. Then it is best practice to cover the exposed areas with cling-wrap (as you would when you do ice cream, etc.) to prevent icicles from forming. Pat the cling-wrap so they touch the jam everywhere. Any parts where there is an air pocket between the cling wrap and the jam, the icicles will find it.
Honestly, I am not a fan of freezing this jam so I will advise against it. My suggestion is - plan to cook it when you are using it for a base of a recipe and use the rest in other recipe or as a dessert or snack.
Looking for other Filipino recipes?